marn s.
hey, i'm marn. i write, draw, and make podcasts, among lots of other things. this is a hub where you can find links about me and the different stuff i do.
---
about me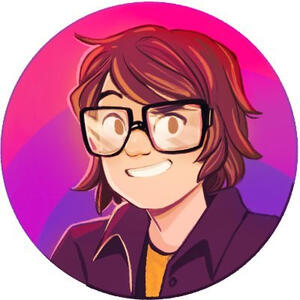 she/her pronouns
bisexual
jewish
author/editor, artist, podcaster, ttrpg dev, and musician
library specialist
horror enthusiast
icon by @_waalkr on twitter!
---
my interests
my + my friends' ocs
blaseball
web serials + webcomics
comic books (ask me for recs!)
alternate reality games
jjba (anime only)
the white vault
woe.begone
john dies at the end
the venture bros
most horror media and analysis thereof
tabletop games and roleplay in general
humans vs zombies
the muppets
hermitcraft
---
my writing projects
All my work is inherently LGBTQ, and has content warnings at the provided links. My serials are all free to read.CARD ZERO PRESSThe website where my wife and I collect the links to all of our projects - including Prairie Song, Antlers, and various short stories and other collaborations.PRAIRIE SONGA collaborative web serial about a farmhand, a musician, a burlesque dancer, and a priest trying to outrun and outwit a crime syndicate in the post-post-apocalyptic United States.Ongoing, updates Fridays.ANTLERS, COLORADOA supernatural serial about a young psychic named Austin Jones solving crimes in a strange, small town, and a musician named Landis Holliday making sacrifice after sacrifice.Completed September 2017.
Currently re-serializing on Substack.
---
I'm a co-founder and Director of Event Management for the Moonshot Podcast Network! In addition to my behind-the-scenes work, here's where you can hear my voice.ARGONAUTS PODCASTAndrew tries his best to solve Alternate Reality Games. Marn tells him what he should have done instead. A podcast featuring long-form deep dives into various finished and defunct ARGs.New episodes every other Thursday.DEAD LETTER SOCIETYA book club podcast where Marn invites friends into her library of terror to discuss the novels, short stories, creepypastas, and interactive fiction that scares them.Currently between seasons.DEAD TEEN HOUSE PARTYA limited series show where Marn, Emma, Neassa, and Jacqueline discuss the Scream TV show that aired on MTV from 2015-2016, without most of the rights to the characters and settings of the Scream movies.Currently between seasons.